2DOrNot2D
That's the question

Leopard comes with two kinds of the Dock. A 3D and 2D one. Whichever you choose, 2DOrNot2D is here for you to change it to your liking.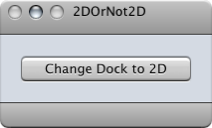 One click - done.
With just one click, you can change your Dock's appearance.

Whenever you wish to change your Dock's appearance, 2DOrNot2D is there for you.
Pricing and availability
.
2DOrNot2D is donationware, which means it's free. However, if you like it, we would very much appreciate if you considered making a
donation
.
2DOrNot2D can be
downloaded here
, it requires Mac OS X 10.5 or higher (Universal Binary).