iMakeFolders
Folders have rights, too

iMakeFolders lets you create folders with specified rights, groups and owners.
It was written for a school for restricting access to certain groups.
Pricing and availability
.
iMakeFolders is donationware, which means it's free. However, if you like it, we would very much appreciate if you considered making a
donation
.
iMakeFolders can be
downloaded here
, it requires Mac OS X 10.3.9 or higher (Leopard compatible, Universal Binary).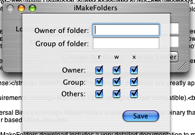 Specify, create.
Set the rights, owner and group for the to-be-created folder, set a name and click on create.
Everything you need right at your mouse pointer.